Het Westerkwartier in 1781
Fragment: "Kaart of Landtafereel der Provincie van Groningen en Ommelanden..." van Theodorus Beckeringh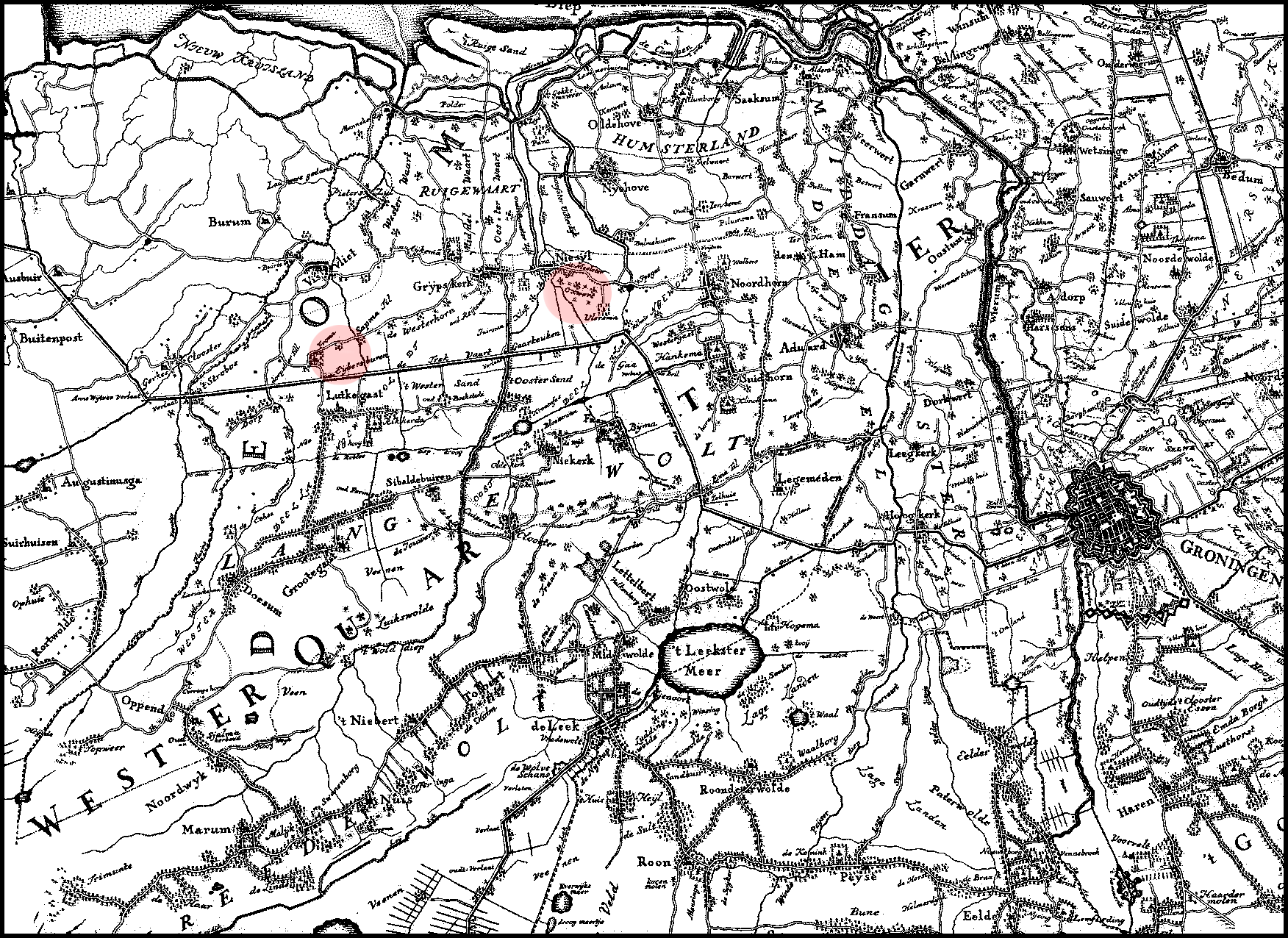 City of Groningen: only 12 inches / 30 cm north-east >>>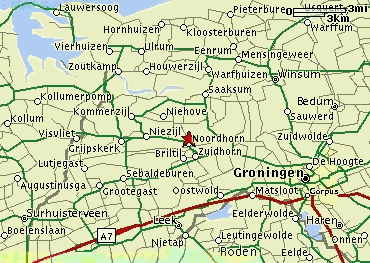 Het Westerkwartier ligt ten westen van de stad Groningen, tussen de riviertjes Lauwers (W) en Reitdiep (O) en de provincie Drenthe (Z). Er zijn twee landschappen. Ten noorden van de spoorlijn Groningen - Friesland (via Zuidhorn en Grijpskerk) ligt een oud kwelderlandschap, met veel open grasland, doorsneden door kreken en geulen. Er liggen veel wierden en verspreide boerderijen. Ten zuiden van het spoor ligt een veel beslotener zand- en veenlandschap, met houtsingels tussen de akkers en de weiden.
De eerste vermelding van Halbe Hindricks is te vinden in Noordhorn. Hier trouwde hij in 1717 met Nieske Duirts. Hij overleed in 1764 te Lutjegast.
---
The Western Quarter lies west of the city of Groningen, between the rivers Lauwers (W) and Reitdiep (E) and the province of Drenthe (S). There are two kinds of landscape. North of the railway between Groningen and Friesland (via Zuidhorn and Grijpskerk) there is an old landscape, shaped on the outside of seadikes. The clay-soil is covered with open grasslands, and intersected with creeks and channels. There are many "Wierden" (mounds or man-made hills to keep church, house, cattle and feet dry at flood-tide) and scattered farms. South of the railway the land consists of sand and peat-moor. It is more sheltered bij well-wooded rural roads crossing smaller fields and meadows.
The first record of Halbe Hindricks is to be found in Noordhorn. Here he got married in 1717 to Nieske Duirts. He died in 1764 in Lutjegast.